Durty Nellie's
Only seven miles (11km) from Shannon Airport on the Limerick road, is Durty Nellie's, a ramshackle cottage with a thatched roof, sitting like some outrageous upstart at the foot of the monolithic Bunratty Castle. The pub is very famous, and is nearly always "packed out" cheek by jowl.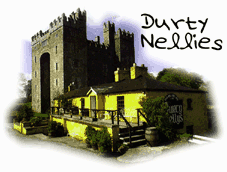 The fact that it has been somewhat commercialised is no matter - the place is sheer fun.
It is a warren of small rooms, little bars, cosy inglenook seats and "courtin' corners". The walls are covered with historical artifacts, portraits of martyrs, statesmen and their writings. Look at the walls for a short course in Irish history.
Durty Nellie's is borderline "twee" (self-consciously quaint), but manages not to fall on the wrong side of the border. The furniture and setting, in keeping with a tavern of the seventeenth century, are somehow truly charming.
The downstairs is always crowded to bursting with jolly people, and the ensuing din is interlaced with the strains of impromptu music. You can addle yourself with a combination of Guinness and music by straddling the doorway between two rooms and attempting to listen to the music in each.
When you grow tired of the noise and smoke, take your pint and sit outside on the small veranda, or wander a few feet to the stone bridge that arches over the Shannon. I can't guarantee it, but one of the romantic high points of your Irish pub crawl might just be standing on the bridge with the moon rising over the river and Bunratty Castle, floodlit and imposing on your left. Sounds of laughter and music float out of the windows of the pub. The air is soft and still and evening birds swoop over all.
One of the most inspiring aspects of the out-of-town Irish pub is the free flow between indoors and out. To emerge from the talk and dim cramp into the mellow smells and sights of an Irish evening is to delight the heart. Then, after dawdling in the luminous hush, you can duck back in for another round.
Durty Nellie's can be found 7 miles from Shannon Airport on the Limerick road.
From the Appletree Press title: The Irish Pub Guide.
Also from Appletree: Irish Pub Songs.