Ballylumford, County Antrim
Whereas some megalithic monuments are difficult to find, this neat 'Druid's Altar' could hardly be more conspicuous or accessible: it even has an address, 91 Ballylumford Road, Islandmagee, the result of an unlikely juxtaposition of a house of the living alongside a house of the dead.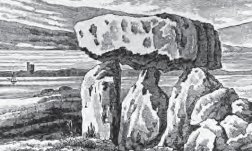 When The Dublin Penny Journal published the accompanying woodcut in 1833, the tomb stood out as a solitary landmark at the relatively remote northern end of this peninsula. The present villa was built here later in the century and this 4000-year-old megalith became thoroughly domesticated, and is now a unique garden eye-catcher trimmed with flowers round the base.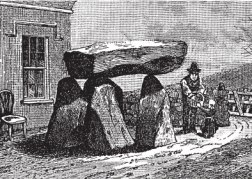 The dolmen is about 6 1/2 feet high overall and consists of a horizontal capstone 6 feet long and 18 inches thick, perched on a rectangular chamber of four stout uprights, all basalt. It may be a portal tomb, but could equally be the remains of a small passage tomb.
An early account states that it was formerly surrounded by a circle of standing stones, probably the revetment of a cairn, any trace of which has disappeared. A gold collar reportedly found here long ago is unlikely to have had any connection with the dolmen.
---
Other Ancient Stones in County Antrim: Ballymacaldrack | Broadstone | Craigarogan | Craigs | Doagh | Ticloy
---
Click here to buy the Appletree Press book from Amazon.co.uk. For more information click on: Ireland's Ancient Stones - A Megalithic Heritage by Kenneth McNally, published by Appletree Press.
---