Irish Landscape | The Burren
In the Burren hills, rising to just over 1,000 feet, Co Clare has the finest development of bare limestone plateau in all of northern Europe. The Carboniferous Limestone here is a pure, grey rock, thick-bedded and flat, abounding in corals, molluscs and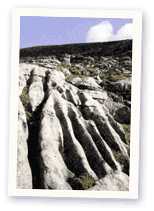 other fossils that lived in the warm, shallow seas where it accumulated over 300 million years ago. Steeper scarp slopes face to the north, but the general stratification of this formation can be seen in well-defined lines which tilt gently southwards. As a result, overlying shales and flags appear at the surface in this direction, around Lisdoonvarna and over south-west Clare, where they meet the sea in Moher's towering cliffs.

The limestone plateau is barren rock desert today, etched by solution into fantastic shapes and gaping fissures (grykes) along enlarged joints; but in sheltered nooks and crevices a little soil permits the development of its rich and distinctive flora.

Surface water drains quickly into it and so the landscape is bone dry, but this water reappears lower down to irrigate the terrain in the foreground, where clayey glacial drift supports rich grassland and patches of deciduous wood. This is the typical stone wall country where the Central Lowlands reach west to Galway Bay, a region almost overwhelmed by the rich cream colours of May-blossom along the hedgerows in early summer.

Here, from Ballyvaughan round by Kinvarra and Gort, is low ground with a profusion of the peculiar features of limestone country, where streams disappear abruptly into swallets to emerge at resurgences some way on; where little gorge-like valleys, blind at each end, mark the falling-in of limestone caverns; and shallow grassy depressions (turloughs) may suddenly become extensive lakes after a night of rain.