Kinsale, 1601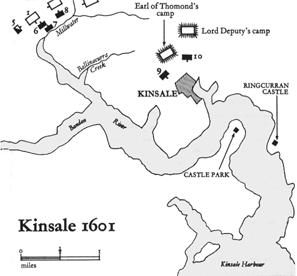 It was said of Hugh O'Neill in 1597 that, until the Spaniards came to help him in his struggle against England, 'he will not fight upon the plain, however great advantage he has, but will lay all passes and streights for her Majesty's forces'; he would, in other words, remain on the defensive in Ulster where Queen Elizabeth's superiority of organisation, armament and resources was least noticeable and where his own method of waging war offered the greatest possibility of success.
The prediction proved true. Until the December morning in 1601 [Dates are given in the old style, which was that used at the time of the battle by the English. The Spaniards, following the Gregorian calendar introduced in 1582 (but not adopted officially in Ireland until 1782), use new style.] when O'Neill marched towards Lord Deputy Mountjoy's army outside the walls of Kinsale in Co. Cork he avoided committing himself irrevocably to action in the field. Before the battle of Kinsale he attacked only when he knew that he could retain control of his men in the changing situation in which the attack might involve them and could draw them off safely at any moment that he desired. He behaved thus at Clontibret and at the Yellow Ford and the Moyry pass; his victories, and his survival, were consequences of this behaviour. But at Kinsale he exercised no such control.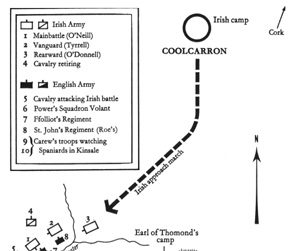 He had no control over the Spaniards who had arrived to help him, but whose freedom of movement had been curtailed by the subsequent arrival of the English; he might certainly count on Spanish assistance as he moved forward, but he could not compel it, and in fact he did not receive it. Nor had he full control over his own men, not at least to the extent of being able to retire at will. The Ulstermen were involved at Kinsale in a battle that was different from anything they had experienced before. Two hundred miles separated them from Dungannon and the rough terrain of their familiar north; despite their best efforts, all their experience as fighters seemed to separate them from the practice in arms that gave their enemies success.
The purpose of military strategy is to bring about an encounter with the enemy in circumstances in which one possesses every advantage-every advantage of ground, of numbers, of armament, of Supplies, and so on-and, having done that, to crush him. If the exercise of caution is necessary to realise that end, then caution is justified, even a caution persisted in through long years and involving withdrawal, retirement, and refusal to accept battle.
O'Neill's caution in the years before 1601 may not have given him many abiding advantages, but without it, since he struggled against an enemy far stronger than he was, he could not have survived. Therefore was it justified. But the question remained whether he had, through these years, retained the power to drop caution and to be aggressive; whether he had his men so well in hand that they could when the occasion arose, as arise it must, pass over to a line of action to which all that they had done up to that had made them unaccustomed. No war was ever won by caution alone, or by a facility in withdrawing from the field at the right moment. History has shown many times-it was shown in South Africa in 1899-1902-that no purely defensive war, not even one in which the defenders have had great initial success, can be won against a stronger power that is determined to go on fighting. The moment would come for O'Neill and his companions-it would come when the Spaniards came-at which they must be prepared to assume the offensive, and to assume it outside Ulster. Their real ability as soldiers would be tested then. And that moment came at Kinsale.
taken from the Appletree Press title Irish Battles by G.A. Hayes-McCoy.
the next part of the article on Kinsale 1601 >=