GEORGE BEST
1946-2005
FOOTBALLER

A celebration of the life of George Best, George Best: The Legend - A Life in Pictures is available from Appletree Press.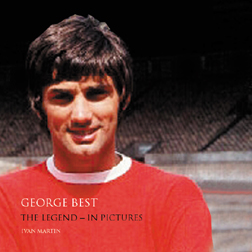 Best was born in Belfast on 22 May 1946. His father, who worked in the shipyard, had been an amateur footballer and his mother was a keen hockey player. An early photograph shows Best at fourteen months with a ball at his feet. As a boy, he was obsessed with soccer, and received valuable coaching from his father. He played for different school and boys' club teams in the hope that he would be spotted by one of the scouts who followed their games.
At fifteen, he was about to become an apprentice printer when Bob Bishop, Manchester United's scout in Belfast, offered him a trial in England.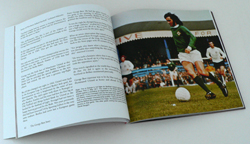 Although Best was small and light, Bishop had no doubt that he could defeat stronger opponents. His telegram to Manchester said: 'I have found a genius'. Best was initially homesick and returned to Belfast, but he was persuaded to go back to the club, where Sir Matt Busby had rebuilt a winning team after a disastrous air crash at Munich in 1958.

Best was only seventeen when he made his debut with the first team. He soon became a favourite with the supporters at Manchester's Old Trafford stadium, who admired his outstanding ball control and his gift for goal-scoring. The cheeky new 'Busby Babe' was both an entertainer and a footballer. With other great players such as Bobby Charlton and Denis Law, Best helped his team to English League championships in 1965 and 1967, and to winning the European Cup in 1968, when he was named European Player of the Year. Surprisingly, United never reached the final of the Football Association Cup, but Best did set a record by scoring six goals in a 1970 tie. He also played 37 times for Northern Ireland.

As Manchester United's fortunes waned, so did Best's footballing skills, and his life became less disciplined. He drank heavily, and his affairs and quick-tempered brawls increased the media pressure. On leaving Manchester in 1974 Best played for a number of other clubs, including Fulham and the Los Angeles Aztecs, but he never recaptured the consistent magic that had made him perhaps the greatest footballer of his generation.

George Best died 25 November 2005.

From the Appletree Press title: Famous Irish Lives.
Also from Appletree: George Best: The Legend - A Life in Pictures

Irish Museums and Heritage Centres.