1884-1960
INVENTOR

Ferguson was born at Growell, near Hillsborough, Co Down, on 4 November l884. In l902, he joined his brother Joe in a car and bicycle repair business in Belfast, and in 1904 began to race motor-cycles. In 1909, at Hillsborough, he made the first powered flight in Ireland, travelling 130 yd (118.5 m) in a monoplane he had built. He later drove racing cars, and helped to establish the famous Ulster Tourist Trophy races in 1928.

Ferguson formed his own motor business in 1911, and during World War 1 began to sell tractors to Irish farmers accustomed to horse-drawn ploughs. With the revolutionary concept that tractor and plough should be designed as a unit, Ferguson began to register his own patents.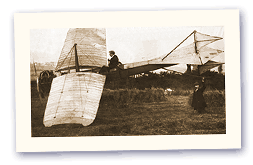 The American tycoon Henry Ford offered him a job, but he preferred his independence and set up an American plant to make Ferguson ploughs. In 1926, the principal patent of the Ferguson system - hydraulic regulation of the working depth of the various implements linked to the tractor - was granted. In time, the system would change the face of agriculture, but commercial success proved elusive.
This photograph was taken in 1910, after one of the first air flights in Ireland. The pilot, Harry Ferguson, had constructed the aeroplane from plans in a magazine and he made the first flight in the country at Hillsborough, Co. Down, on 31st December 1909.

In 1938, Ferguson and Ford reached a 'gentlemen's agreement' by which the American could manufacture tractors for Ferguson to sell, and the deal was sealed only by a handshake. The tractor contributed enormously to wartime food production, but Ferguson's real hope was to raise living standards throughout the world. 'Agriculture,' he said in 1943, 'should have been the first industry to be modernised, not the last.'
Ferguson's later years were clouded by a dispute with the Ford Motor Company, after Henry Ford's death. He won $9.25m compensation in 1952, but a 1953 merger with the Canadian Massey-Harris concern worked out unhappily for him, and he retired to Stow-on-the-Wold, in Gloucestershire. His last ambition was to improve car safety through a four-wheel drive system and anti-lock braking, but he failed to make a commercial breakthrough. He suffered from insomnia and depression and, when he died from a drugs overdose on 25 October 1960, a coroner's jury returned an open verdict.
Read
Colin Fraser, Harry Ferguson: Inventor and Pioneer (1972).