Saint Brigid
Although Brigid is probably the best known Irish saint after Patrick, her life cannot be documented with much certainty. Cogitosus's Life of Brigid was written not much more than a century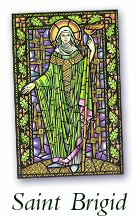 after her death, but he was mainly concerned with recounting her many miracles. She may have been born in Co. Kildare, c. 457, but local tradition suggests Faughart, Co. Louth. Her parents, Dubtach and Brocseach, may both have belonged to noble families, though one account suggests that Brigid's mother was a slave in Dubtach's household. It is generally accepted that Brocseach was a Christian. Dubtach may also have been one, or perhaps converted from paganism in later life. Brigid was noted for her generosity to the poor, and as a child once gave away her mother's whole store of butter. Fortunately her prayers were answered, and the store of butter was miraculously renewed.
Her father may well have welcomed her decision to take the veil, once she had rejected his choice of a husband for her. With seven other young women robed in white, she took her vows before Saint Mel, the abbot and bishop of Longford, and it is said that he mistakenly consecrated her a bishop. When seeking land for her community, she asked the King of Leinster only for as much as her cloak would cover. The cloak miraculously spread over the whole of the Curragh, an area of grassland famous then and now for horse racing.
In Ireland Christianity did not supplant paganism so much as superimpose itself on Celtic tradition. Sites of pagan worship or superstition quickly became associated with Christian worship and belief. Brigid's feast day, for example, falls on 1 February, the date of Imbolg, the pagan festival of spring. Significantly Brigid was also the name of a pagan goddess, and even seems to have been used as a general name for Irish goddesses, for the name means "exalted one". The attributes of the pagan Brigid, such as healing powers, learning and poetic skill, were readily perceived in the saint who established a convent at Kildare. The name Kildare means "church of the oak", and there was probably a pagan sanctuary there with a sacred fire which burned for centuries into the Christian era. By the time of Brigid's death, c. 525, Kildare had become an important centre of learning.
The saint travelled by chariot throughout Ireland, carrying on Patrick's work of conversion, but there is no evidence that they ever met. Many miracles of healing are attributed to Brigid, such as curing Iepers and giving speech to the dumb. There are tales of her turning water into ale or stone into salt, and many concern her rapport with animals. She also negotiated the release of captives. Perhaps the best known story is of her visit to a dying pagan chieftain. While she prayed, she plaited rushes into a cross. The chieftain heard her account of the cross as a Christian symbol, and was converted and baptised before he died. It is still customary on 1 February to plait Saint Brigid's Crosses, in the hope that they will protect a household in the year ahead.
Brigid has been called "Mary of the Gaels" and a common salutation in the Irish language expresses the hope that "Brigid and Mary be with you". Her influence is not confined to Ireland, however, for she has been revered throughout the ages in innumerable countries. One legend is that the medieval Knights of Chivalry chose Saint Brigid as their patroness, and that it was they who first chose to call their wives "brides".
From the Appletree Press title: A Little Book of Celtic Saints.