Saint Ciaran
Christianity reached Ireland some years before Saint Patrick, and Ciarán has been called thc first-born of the Irish saints.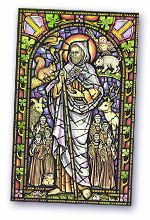 Of royal blood, he was born on Clear Island, the most southerly tip of Ireland. He had an early affinity with animals, and one legend recounts that he prayed for a small bird which had been seized from its nest by a hawk. The hawk laid its bleeding prey at Ciaran's feet, and it immediately recovered.
After studying at Tours and Rome, where he was ordained a bishop, Ciarán chose a hermit's life in the Irish Midlands. His only companions in the Slieve Bloom mountains were animals, and it is said that a wild boar tore down branches to build the saint's first shelter. In time Ciarán gathered followers, and founded the monastery of Saigher, Co. Offaly, which also became the burial place of the kings of Ossory. An associated convent was led by his mother, Liadan.
In most of the miracles attributed to Ciarán he restored life to the dead; in one, seven harpers who had been murdered by robbers, joined him as monks in gratitude. But he could also cast spells, and once showed his disapproval of King Ailill by silencing his voice for a week.