Saint Comgall of Bangor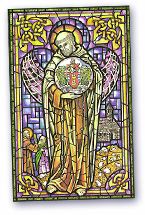 Comgall was born in the Irish kingdom of Dalriada, and studied under Saint Fintan of Clonenagh, Co. Laois. While there, he is said to have restored a blind man's sight by pressing saliva to his eyes. In later life, he is said to have spat into a beggar's pocket, where a gold ring immediately appeared.
Comgall returned to the northern province of Ulster, living first on an island in Lough Erne, Co. Fermanagh, where the regime was so austere that seven companions died of cold and hunger. He then moved to Bangor, Co. Down, founding a monastery which attracted thousands of monks . Among them were Saints Columbanus, Gall and Moluag.
Curiously, despite the fact that Comgall allowed himself only one meal a day, many of his miracles concerned food. In one instance thieves became blind after stealing the monastery's vegetables, and when an ungenerous farmer refused to let the monks have grain, it was devoured by mice.
The saint died following illnesses which some said were a punishment for the severity of Bangor's discipline.