Saint Ita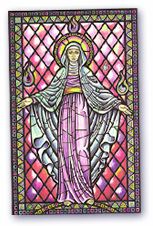 Like Saint Declan, Ita belonged to the royal family of the Decies kingdom. She was born c. 480 in Co. Waterford, and was baptised Deirdre. The name Ita, which she later acquired, signified her "thirst for Divine Love". When her Christian father sought to arrange her marriage to a noble youth, she fasted in protest. Her prayers were answered when an angel appeared to her father persuading him that she must be allowed to pursue her holy vocation.
Ita established a community of nuns at Killeedy, Co. Limerick. Saint Brendan was a pupil of Ita, and when, in later life, he asked her what three things were most pleasing to God, she cited true faith, simplicity and generosity. Most hateful were churlishness, love of evil and greed.
Her life was austere, and she fasted rigorously. When a rich man pressed gold on her, she immediately sent for water to wash her hands. Ita is said to be the author of an Irish lullaby, which she sang when the infant Jesus appeared to her. She died c. 570, perhaps from cancer; legend says that a beetle devoured her side, growing to the size of a pig.