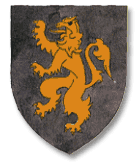 Duffy
This name is now the single most common name in County Monaghan, where it originated. Its Irish version is Ó Dubthaigh, which means black, probably referring to hair. In Ulster, Dowey is a common variant.
One of the most notorious holders of this name from County Monaghan was General Eoin O'Duffy, Chief Commissioner of the Garda Siochanna (the Irish police force) after independence. He was sacked from his position by the incoming de Valera government in the early 1930s and went on to found the extreme right-wing, fascist-style organisation known as the Blueshirts.
An earlier Duffy with an altogether more heroic career was Sir Charles Gavan Duffy (1816-1903), Premier of the colony of Victoria, Australia. He too was born in Monaghan town. The American actor Patrick Duffy achieved worldwide fame in the 1980s as the character Bobby Ewing in the TV series Dallas.