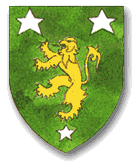 Malone
The name originally came from the Irish name Ó Maoil Eoin. Maol is Irish for bald and refers to the tonsures sported by Irish monks. The name also means servant of St. John.
The Malones are an offshoot of the O'Connors of Connacht and their early history is centred around Offaly. In the early Middle Ages, Clonmacnoise, that splendid ecclesiastical site near the River Shannon, not far from Athlone, had a number of Malone abbots and bishops. The site is well preserved and has an informative visitors centre.
The best-known Malone had her origins in 18th-century Dublin street life. Molly Malone was a real fishwife, and the famous song, "Sweet Molly Malone", with its references to cockles and mussels, is a song about a real person. A statue of her can be seen at the foot of Grafton Street in Dublin. In popular Dublin parlance, she's referred to as "The Tart with the Cart."