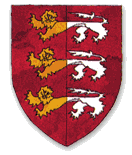 O'Brien
The O'Briens take their name from the 10th-century Brian Boru who was High King of Ireland. A very powerful and numerous sept in Clare and Limerick, they spread far and wide and still predominate in Munster. Their history fills volumes, beginning with the saga of their contentions with the Normans and the Tudors. They were granted many titles of nobility; Earls of Thomond, Viscounts Clare, Earls of Inchiquin.
The 6th Earl of Thomond, 'Murrough of the Burnings', earned his second title for his siding with the Cromwellians in the ravaging. Repenting years later, he journeyed to Rome to expunge his atrocities. Other more constructive Earls of Thomond built abbeys and fine castles, including Dromoland.
In the Battle of the Boyne they were active on both sides, the losing O'Briens (the Viscounts Clare) fleeing to France where they founded Clare's Dragoons. In Ireland by the 18th century they were parliamentarians, urging legislative independence for Ireland. Foremost among these was William Smith O'Brien of Dromoland, whose nationalist views included the taking up of arms which led to his banishment for a while to Australia.
A number of O'Briens chose the sea. The 3rd Marquis of Thomond was an admiral in the British navy. Captain Jeremiah O'Brien and several of his brothers were in the American navy at the time of the revolution and it was they who opened the naval hostilities by capturing several of the English ships.