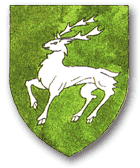 O'Conor
The O'Conor clan is one of the most influential in Irish history. In Irish, the name is O Conchobhair or O Conchuir, from the personal name meaning champion. There are six distinct septs, with the Connacht and Kerry ones being the most important. The Connacht sept included High Kings of Ireland, the last of whom, Rory, was born in Castlerea, Co. Roscommon, in the 12th century. He died in 1198 and is buried at Clonmacnoise.
Clonalis House in Co. Roscommon is the ancestral seat of these O'Conors, whose ancestry included 11 High Kings of Ireland and 24 Kings of Connacht. The magnificent house contains many priceless treasures relating to the O'Conors and is open to the public.
Ballintober Castle, near Castlerea, was the stronghold of the O'Conors of Connacht from the early 14th to the 17th centuries. In Co. Kerry, Carrigafoyle Castle, built in 1490 by the chieftain Conor O'Connor, was the stronghold of the Kerry O'Connors. Denis O'Conor is the present O'Conor Don, the head of the family, who claims direct ancestry from the High Kings of Ireland.