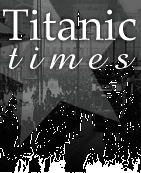 TODAY AND YESTERDAY IN BELFAST
"Belfast - when you reach it - is not calculated to charm the eye. It has the features of any English manufacturing town so far as its buildings are concerned, and the finest structures it can show are the vast fabrics which rise in the dockyards, such ships as have never been built in the world before - marvels of symmetry and strength. To see them in the building up is to watch, perhaps the most impressive exhibition of human skill and energy".
Stephen Gwynn
Ulster (London 1911)

Photograph 1 & 2
Junction of Stranmillis Road and Malone Road. The entrance to Botanic Gardens, a public park, is visible in both photographs. The location is in the heart of the city's university area. Trams have long disappeared from Belfast streets. The Stranmillis road remains tree-lined but is today built-up with the university campus and private houses.
Photograph 3 &4
Exit from Harland & Wolff shipyard into Queen's Road. The Titanic, under construction, is visible in the background. Workers swarm to waiting trams to travel to the south, west and north of the city. In 1911, the shipyard employed 14,000 men, of whom 4,000 worked on the Titanic. Merchant shipbuilding has declined throughout the world in the last thirty years. Today, Harland & Wolff is involved in the construction of machinery for offshore oil and gas industries.