Kilkenny Castle, County Kilkenny
The imposing ancestral castle of the Ormonde Butlers stands in the south-east corner of the medieval city of Kilkenny in a magnificent location over the River Nore. Largely the creation of local architect William Robertson in the 1820s, the building owes more to the spirit of romance than to historical accuracy. None-the-less, it retains portions of earlier buildings, including the basic plan and shape of the great medieval fortress - a castle that has served as a princely residence for over eight centuries and played a major role in the country's history.

It appears that a motte (a Norman fortification dug out of earth) was first erected here by Richard de Clare (Strongbow) as early as 1172, but this structure, destroyed by Donald O'Brien, King of Thomond, was rebuilt during 1207 and 1213 by Strongbow's son-in law and successor, William Marshall, Earl of Pembroke. As befitting a potentate of enormous wealth and power, the new castle was erected on an impressive scale.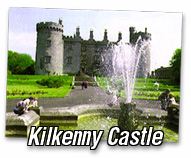 At each angle of a trapezoid enclosure were massive drum towers, three of which still survive in an altered form together with the original north wall. The castle remained intact until the mid seventeenth century, by which time it had become the principal seat of the powerful Butler family - purchased by James Butler, third Earl of Ormonde, from the Earl Marshall's descendants in 1391. After the Restoration in 1660, the Great Duke of Ormonde, inspired by buildings he had seen in France during his exile, carried out a major rebuilding of the old castle which had heen damaged during Cromwell's siege in 1650.
The second Duke continued his father's work and was responsible for the classical-style entrance gateway on the street, built during 1703 and 1706; however, following his exile in 1715 for supporting the Jacobite cause, the castle lay empty until the estates devolved upon Walter Butler of Kilcash in 1766. Walter's son John was recognised as the seventeenth Earl of Ormonde in 1791 and shortly afterwards he built the extensive stables across the street - now the home of the Kilkenny Design Centre.
> > > Read the next part of this article.