Irish Landscape | Donegal Mountains
This view north (in the picture on the right) from the crest of the granite Derryveagh mountains is one of the most impressive inland panoramas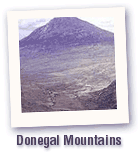 in Donegal. In the distance the pyramidal peak of Errigal dominates, at nearly 2,500 feet one of the county's highest summits. With its characteristic profile it lies at the south-western end of the great quartzite ridge, which includes the comparable profiles of Aghla and Muckish. One has a glimpse of the little village of Dunlewy on its west side whose ruined church was built from the local sugary white marble, an outcrop of which stretches away in the low ground to the north-east beneath the quartzite.

The Poisoned Glen, celebrated among botanists as the haunt of uncommon plants, occupies the main foreground. Its broad U-shape shows that it was much enlarged and deepened by a glacier which took off at the precipitous lip immediately before us from its feeding ground in the Derryveagh snowfields. On the flattened valley floor a little stream meanders sluggishly out of sight over the broad expanse of peaty moorland.

The great expanse of Derryveagh granite which forms this mountain backbone was injected along a major movement zone in the crystalline metamorphic rocks of the region, during a period of earth deformation which we call Caledonian, about 400 million years ago. It was this which developed the structure and rock characteristics throughout the Scottish Highlands, Donegal and Mayo. All these features evolved deep in the earth's crust, but since then long-continued erosion has laid them bare at the surface, and today their characters dominate the topography of Donegal.

Glenveagh National Park showcases many of the features described above.